Eight months ago I began this process.
Sydney WorldPride was asking for submissions for what seemed like their fringe festival component known as Pride Amplified. To be featured in the print edition of their festival guide, I had to submit the many things they asked for by mid year. So, recovering from Covid, I began the exhausting process.
Originally we were going to use a different venue.
Only three of us would be on the program and a small upstairs space we'd used before was available. Another friend confirmed a date with the manager, and I began the process of applying to be part of this pride season.
A media release had to be written. An image with one person that encapsulated our event had to be created (image below). Promotional material had to be approved. A health and safety check had to be done and liability insurance had to be purchased. But the most important thing was I had to make sure the fee to be part of this festival was waived.
Indie authors make little money.
Let's face it, most authors in general make little money from their writing. So I went through email correspondence I had with my publisher when ordering books in the past, and calculated how much I'd lost appearing at similar events. In this run down I included the cost of printing promotional pamphlets and the price of the paper bags to give to customers with the books they bought.
The festival organisers told us we only needed to submit a one page fee waiver submission. Mine was three, and detailed. Thankfully, our fee was waived early.
Another author came on board.
Initially, Rebecca Langham and Nigel Bartlett were my partners in crime, but Australian born Canadian author, Christian Baines, asked to be part of the program. He is a friend of mine, so I was delighted he was joining us. And it was still early enough for him to be included in the publicity.
Then we had to change venues, which was partly because of my own insecurity. Even though we knew our venue was a participant in the festival, they hadn't popped up on the platform we had to use to finalise our event. And the deadline for being included in the printed guide was looming.
To ease my panic, I approached the venues which were listed.
Universal, which most Sydney folk remember as The Midnight Shift, came to our rescue. This also meant I became even more jittery because our original venue was small and intimate, perfect for an author reading afternoon. Universal seats many more people, so for several months I came up with various ideas to pull in a crowd, including hiring a drag queen to host.
I think my fear stemmed from the fact that I organised this. I didn't want to let down my authors, or the venue. So, for the months which followed I had the equivalent of wedding jitters, coming up with ways to make this more entertaining than your average author reading.
There comes a time when you get over the panic.
Or in other words, your panic becomes stale. I realised that pubs aren't necessarily full on Saturday afternoons. A bigger space doesn't mean punters aren't here for our event. And we have experienced writers who know how to read to an audience, including the late edition of Sam Coley to the program.
I wrote this blog two weeks out from the event. It will be published the week before. I have a pile of printed postcards which I will deliver to inner city book stores this coming Thursday. I have a printed poster that will be on a stand outside our venue during our event. I've added our promotional author images to an empty plastic container which will be used for our free raffle of individual books. And I've been practising my reads and my introductions of the talented team.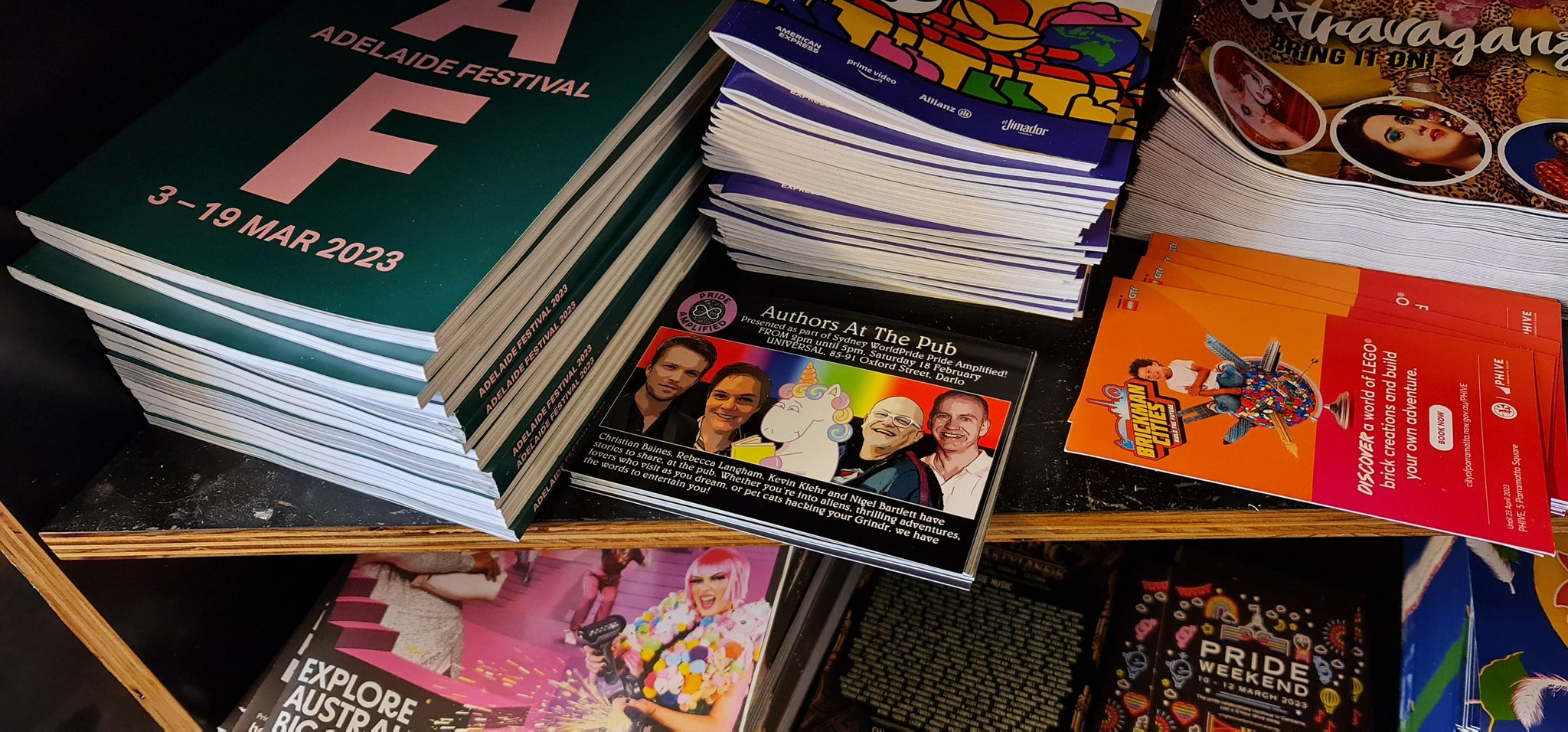 And I can honestly say now, I'm really looking forward to this. It will the best event ever!
---
CLICK HERE for information on Authors At The Pub.